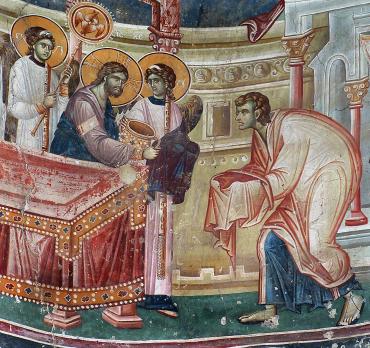 Our Saviour, Lord Jesus Christ said about the Holy Mystery of Communion: "Most assuredly, I say to you, unless you eat the Flesh of the Son of Man and drink His Blood, you have no life in you. Whoever eats My Flesh and drinks My Blood has eternal life, and I will raise him up at the last day. For My Flesh is food indeed, and My Blood is drink indeed. He who eats My Flesh and drinks My Blood abides in Me, and I in him. As the Living Father sent Me, and I live because of the Father, so he who feeds on Me will live because of Me" (Jn. 6:53 -57).
Days like Pascha, The Feast of St. Peter (The Holy, Glorious and All-Praised Leaders of the Apostles, Peter and Paul), The Dormition of the Most Holy Mother of God, Christmas, must not pass without us taking Communion. Without Communion there is no godly life. Likewise, it is good for us to prepare ourselves for Communion by fasting, by prayer, and by confession also on the other feasts of Christ and of the Most Holy Mother of God, for the feasts of our great Macedonian and all-Slavic Saints Clement, Nahum, and the others, as well as for the feast of the church where we attend divine services. For only when having partaken, we most truly and most fully participate in the event we are celebrating, which is of special importance to our salvation. This I do not say alone, but also the Holy Fathers and the canons of the Church.
And how will the canon be applied in the life of the Church as well as of each believer separately, the spiritual father determines. Therefore blessing from the spiritual father is also needed for Communion.
When it comes to this, we must point out that without regular confession of one's sins and counselling with the spiritual father, one must not approach Holy Communion.
(excerpt from the Epistle On Fasting, on Prayer, on Confession and on Holy Communion, from the book Homily from Eleusa)
____________

9. Canon of the Holy Apostles
All the faithful who come in and hear the Scriptures, but do not stay for the prayers and the Holy Communion, are to be excommunicated, as causing disorder in the Church.
66. Canon of the Holy Apostles
Sixth Ecumenical Council:
From the Holy day of Resurrection of Christ, our God, until the following week, throughout the whole week, the faithful should attend services in the Holy churches, chanting psalms, hymns and religious songs, rejoicing in Christ and celebrating, listening carefully at that to the reading of the Divine Scriptures and communicating of the Holy Mysteries. For only in this wise we shall rise and ascend together with Christ. Therefore, in those days no sport events and public shows are to be held.
On regular approach to the Holy Mysteries