God permitted Himself to be seen face-to-face, not in enigmas. He becomes united to those worthy as with His own members, just as is a soul to its body. He is united to them to the extent of permeating completely their being, and they too live entirely in Him. Thus through the Son, the Spirit is poured out in abundance on us…" (St. Gregory Palamas, Triad 3).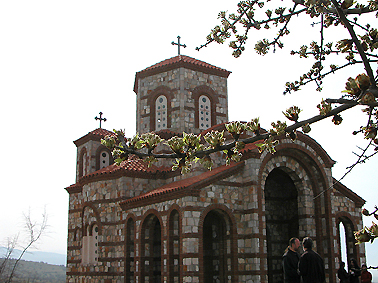 The male monastery in Hamzali, dedicated to the holy Wonderworkers of Ohrid Sts. Clement and Nahum, is located at the foot of Ogražden Mountain, 17 kilometres away from Strumica. The beginning of its foundation is marked with the construction of the monastery church in the year 2000. It is consecrated to the most venerated spiritual luminaries throughout Macedonia, Saints Clement and Nahum.
At a distance of around 500 metres from this stone church in the Byzantine style, whose iconostasis follows the tradition of the early-Christian basilicas, in the year 2003 the monastic quarters were erected with an interior chapel dedicated to the great teacher and protector of monks-hesychasts, the Venerable Gregory Palamas.

Here in 2004 on the Sunday of St. Gregory Palamas the foundation began of the new monastic community, at present a five-member brotherhood whose superior is the hieromonk George. In the vicinity of the quarters there is a monastery stockyard, in which the brotherhood tends a flock of around fifty sheep and goats. The monks in Hamzali also occupy themselves with agriculture, icon-painting, and monastic handicraft.

With simplicity of life, with constant maintenance of a balance between everyday Eucharist and practice of the Jesus prayer, accompanied by the ascetical bodily effort imposed by the conditions and the surrounding area, this first monastery consecrated to the memory of the most important founders of the monastic life in Macedonia—the God-bearing enlighteners Clement and n ahum of Ohrid—aspires to giving the fruits of the classical monastic ideal.