( 30.06.2009 )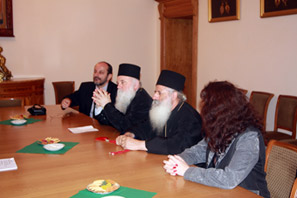 On June 29th, 2009 the President of the Foreign Church Affairs Department of Moscow Patriarchate, Archbishop Volkolamskii Hilarion has received Orthodox hierarchs from the Republic of Macedonia – Metropolitan of Prespa-Pelagonian area Peter and the Metropolitan of Debar and Kichevo Timothy.
The meeting took place at the proposal of the Archbishop of Ohrid and whole Macedonia Stephan, expressed in his letter to His Holiness Patriarch Cyril. Matters connected to the dialogue about regulation of the status of the Macedonian Orthodox Church, which declared autocephaly in 1967 which hasn't been recognised by the other Local Orthodox Churches were subject of discussion on the meeting.
Macedonian ambassador in the Russian Federation, Mr. Zlatko Leshevski, deputy president of the Foreign Church Affairs of the Moscow Patriarchy, archpriest Nikolai Balashov, the secretary of Inter-Orthodox Relations department of the Patriarchate, priest Igor Yakimchuk, and the associate of the Inner Affairs Church Department of the Patriarchy, deacon Oleg Janshin were also present at the meeting.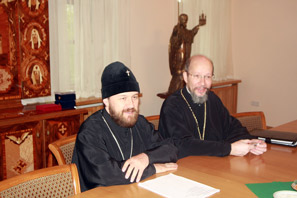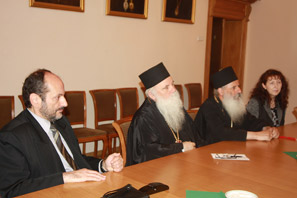 Source: Mospat.ru