Archbishop Stephan: Let's think about how to completely mend St. John the Baptist Monastery ( 1.10.2009 )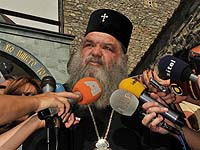 The Head of Macedonian Orthodox Church, Archbishop Stephan, the President of the country Mr. George Ivanov and a number of members of the Government of Macedonia, expressed their deep regret for the Church, historical and cultural treasure lost in yesterday's fire in St. John the Baptist Bigorski Monastery during their visit of the site. In the same time, they confirmed their solemn conviction that the burned complex will be quickly repaired and the former glow of the Monastery will be returned back soon.
"A big misfortune hit the Monastery of Bigorski in the early morning, yesterday. The sleeping section of the monastery, well known to all of us, work of the famous Debar masters suffered into fire, as well as the dinning room, the library and the Icon gallery. Fortunately, no one of the Monastery personnel has been hurt. The other big fortune is that the Church and the precious icon-stage (iconostasis) remained untouched by the flame, thanks to the monks and the people living nearby, who together with the fire brigade arrived very quickly at the burning site" – stated Archbishop Stephan. "The sorrow for Bigorski will not make any difference or burdens between the people of Macedonia, the cry over the river of Radika will be heard far, the sorrow for Bigorski will last for long, but I firmly believe that new masters like our famous Debar masters will arise, and they will continue the masterwork of the old masters, and renew everything what we've lost in one moment today. Let this terrible event, this disaster be a warning for all of us, how little we care about the inheritance that our ancestors left to us with so much faith, love and art in it. I appeal to the all Macedonian community to understand this big misfortune as something that happened because of our common carelessness and never in other manner" – accented Archbishop Stephan.
Source: MIA