Jerusalem Patriarch denounced and practically deposed ( 06.05.2005 )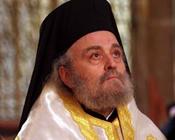 The Holy Sepulcher community considers Patriarch Eirinaios as deposed, since 13 Synodical Metropolitan Bishops, with their signatures, denounce him and ask for his resignation. Based on the statutory of the Jerusalem Patriarchate, Eirinaios is immediately pronounced deposed when 2/3 of the Synod claim that he cannot serve the interests of the Patriarchate. The Patriarchal Synod, which will officially declare that Eirinaios has been removed from office, is underway. It will appoint a three-member committee to deal with current issues and inform the governments of Jordan and Israel and the Palestinian Authority that the Patriarch of Jerusalem has been removed. In the meantime, the Hierarchs and priests of the Holy Sepulcher have temporarily taken over the Patriarchate. This action resulted from a dispute between the Patriarch and the Hierarchs, who were verbally attacked by Eirinaios after the second failed attempt to convene the Holy Synod at 16:00. The developments are the topic of discussion in a meeting at the Greek Foreign Ministry, attended by deputy minister Panagiotis Skandalakis and other staff.
The Patriarch's lawyerFrangiskos Ragousis also participated in the incident, and was removed from the building while Eirinaios left the Patriarchate shortly afterwards, to the jeers of his own priests and accompanied by policemen and his drivers. At this time, the Patriarch is guarded by Israeli police forces, while the monks have locked the doors of the Holy Sepulcher and are not allowing extra-ecclesiastical bodies to enter.
Earlier, as it was made known by Fanari, Patriarch Eirinaios contacted the Ecumenical Patriarchate and expressed his opposition to the delegation being sent in order to investigate the situation in Jerusalem.

According to the same sources, Patriarch Eirinaios claimed that without his permission the presence of the Ecumenical Patriarchate delegation is illegal and intervenes in the internal affairs of another Patriarchate.

Mr Eirinaios counter-proposed to send a three-member delegation to Istanbul in order to explain to the Ecumenical Patriarchate the situation in Jerusalem.
However, the delegation of the Ecumenical Patriarchate composed of Metropolitan Bishops Kidonias and Apokoronou Eirinaios, Filadelfias Melitonas and abbot of the Iviron Monastery Vasileios Gontikakis will depart later tonight from Istanbul, regardless of Patriarch Eirinaios' objections. "We will face the objections upon our arrival," stated members of the delegation.
Patriarch Bartholomew's Views
"Every now and again, as was the case recently in the Ukraine, FYROM and now in Jerusalem, we are called upon to assist in solving the unfortunate problems that keep arising, as a coordinating centre of Orthodoxy," declared Ecumenical Patriarch Bartholomew today, in his first public address regarding the situation in Jerusalem over the last three weeks.
the information is taken from: http://news.ert.gr/newsDetails.asp?ID=133329, http://news.ert.gr/newsDetails.asp?ID=133070