Incidents at the Patriarchate ( 08.05.2005 )


Today, Patriarch Eirinaios repeated his decision not to resign, despite the fact that 13 Synod Hierarchs are demanding his dismissal. The Patriarch remains at home guarded by Israeli police officers and his private bodyguards. According to sources, he is negotiating his next moves and may even flee the country, while his financial administrator is denying cooperating or handing over the keys to the financial services' offices, triggering renewed tensions in Jerusalem. The latest incidents, between Hierarchs, the Patriarch's associates and one Greek police officer guarding him, were prompted when the Synod members realized that the associates tried to transfer money and dozens of documents from the offices to Mr Eirinaios' home. In the meantime, Jordan is expected to ratify the Synod deed renouncing the Patriarch, while the Palestinian Authority has already announced officially that it supports the Synod Hierarchs. On the other hand, Mr Eirinioas sent a letter to the Ecumenical Patriarch explaining the reasons why he is not resigning, while in another letter he threatens the Holy Sepulchre Hierarchs and clerics opposing him with sanctions. Jerusalem Patriarch in Negotiations
A day full of incidents dawned in Jerusalem and the Patriarchate, as it was made known that the Patriarch had sent associates to the financial services - where he is allowed entry, as opposed to the Synod members - in an effort to remove documents and money. Supervisor Kornilios, accompanied by a large group of Hierarchs, immediately rushed to the financial services' offices, where they caught Archimandrite Fotios and a Greek police officer, who was part of the Patriarch's personal guard, whilst transferring bags full of money and dozens of original powers of attorney.
The money was in Cypriot pounds and the powers of attorney were addressed to a lawyer and Nikos Papadimas, whom Patriarch Eirinaios had commissioned to administrate his immovable assets, and had been reported as lost. They were all confiscated by the Synod members, who reported the attempt to smuggle them to the police.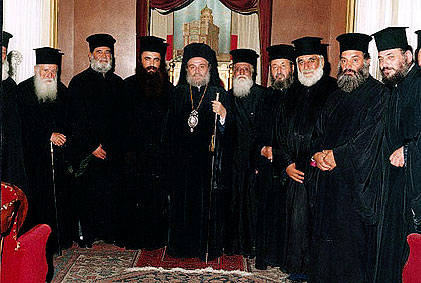 A little while later, a letter by Mr Eirinaios was distributed to reporters, whereby he threatened the Holy Sepulchre Hierarchs and any clerics opposing him with sanctions. He urged them to stop doubting him; otherwise he would be forced to impose sanctions in an effort to safeguard the prestige of the Greek Orthodox Patriarchate.

The Synod members did not make any comments, but clarified that they no longer considered Mr Eirinaios a Patriarch, since he has been renounced.

Yesterday, Mr Eirinaios sent a letter to the Ecumenical Patriarchate Bartholomew, explaining the reasons why he is not resigning. He then met with Jerusalem Patriarchate Hierarchs, to whom he repeated that he is refusing to resign. He then met with a close associate from the financial services, as well as the police chief of the Old City in Jerusalem, asking the latter to provide him with a police escort. The police chief agreed to the request, but advised him to limit his public appearances, in view of the current circumstances.

He was then visited by the Ecumenical Patriarchate's three-member Exarchy, while, according to sources, nothing significant was discussed during their brief meeting.

The Exarchy in turn met with the three-member committee that has temporarily taken over the administration of the Jerusalem Patriarchate, to assess the situation. On Monday, the Ecumenical Patriarchate's delegation will brief the Holy Sepulchre brotherhood during a meeting that will take place in Fanar.
the information is taken from http://news.ert.gr/newsDetails.asp?ID=133507