Jordanian authorities give the Jerusalem Patriarch 72 hours to defend himself ( 29.03.2005 )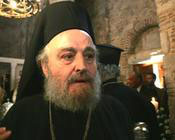 The Greek media nowadays revealed new details regarding the latest scandals the Greek Orthodox Church is implicated for. To the implication that the Jerusalem Patriarch Irenaios took part in an illegal sale of Church land in the Old City a new piece of information is added which states suspicious circumstances that had brought Patriarch Irenaios on the Jerusalem throne and helped the Patriarchate to "remain in Greek hands". The latest development of the media investigation informs about involvement in such conspiracy (four years ago) of the Greek Police Chief Giorgos Aggelakos, of Archbishop Christodoulos, and of the Interpol wanted drugs smuggler Apostolos Vavilis, although the present situation indicates that Irenaios's resignation from the Jerusalem throne will not endanger the Greek status of the Patriarchate:
"The embattled Greek Orthodox patriarch of Jerusalem received the cold shoulder yesterday from Jordanian authorities, who gave him a three-day deadline to defend himself against claims he secretly sold land in the Arab sector of the holy city to Jewish settlers.
Irenaios is already under intense pressure from Palestinian officials, Arab members of his flock, as well as senior churchmen to resign over the alleged sale, which was reported by an Israeli newspaper this month but has been staunchly denied by the patriarch. Yesterday, the Palestinian charge d'affaires, Ismat Sabri, said the sale of Palestinian land to Israelis "verges on high treason" and called for Irenaios to step down.
"I think his insistence on remaining in power renders harder the effort to find a solution," Sabri said after a meeting in Athens with Synaspismos Left Coalition leader Alekos Alavanos — who also demanded the patriarch's resignation. But Sabri said there was no question of the patriarchate losing its Greek identity.
Irenaios was snubbed in Amman yesterday by King Abdallah, with whom he had been scheduled to meet. Instead, he saw Interior Minister Samir Habashneh, who gave him 72 hours to respond in writing to the land sale allegations.
Eight of the patriarchate's 17 bishops, and some 30 archimandrites, have demanded Irenaios's resignation.
A team of Greek diplomats who visited the patriarchate last week on a fact-finding mission is expected to issue a report damning Irenaios."
information taken from the Greek daily Kathimerini:
http://www.ekathimerini.com/4dcgi/_w_articles_politics_100009_29/03/2005_54544