Erinaios Declares He Holds Office for Life ( 31.03.2005 )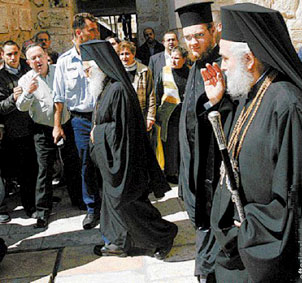 The Patriarch of Jerusalem Eirinaios appears determined to remain in office, in a letter that was made public earlier today. The Patriarch declared that he holds his office for life, thus reacting to yesterday's findings by Greek Foreign Ministry experts, as well as the Greek Government's interventions, which basically pointed to the door. The report probed into allegations concerning sales and long leases of Patrairchate real estate in Jerusalem to Israelis. Eirinaios contented with apologizing to his congregation and the nation for omissions that may have been made unbeknown to him, while he sent a clear message to the Greek Government, telling them not to intervene in the internal affairs and operation of the Patriarchate.
"...As a lifetime Leader of the Holy Sepulcher Brotherhood, and responding to by debt towards the institutions of the Patriarchate, my Congregation and the Nation, I apologize for any omissions that may have been made unbeknown to me or due to my trustworthiness. Keeping the Greek flag in the Holy Land, preserving the status quo and restoring the peace in my Congregation are of vital importance. I have been fighting for those ideals for the 50 years I have been in the Holy Sepulcher Brotherhood and I declare that I will continue to fight with all my strength..."
However, he makes no mention in his letter of the Jordanian Government or their 72- hour ultimatum, demanding that he provides explanations in writing. He also did not mention the Palestinian Authority, or the letter by their PM Ahmed Qorie, who asked for explanations within 48 hours.

Furthermore, ten Hierarchs, six of whom are members of the Holy Synod, also demanded his resignation… (more information on the next link: http://news.ert.gr/en/newsDetails.asp?ID=6623)
…«Obviously, the image currently presented by the Patriarchate is not what it should be, and does not uphold its prestige,» Foreign Ministry spokesman Giorgos Koumoutsakos told a press conference in Athens - called to present a damning report by Greek diplomats on the Patriarchate's part in the scandal.
«We invite Mr Irenaios to reflect on the crucial state of affairs, prove himself equal to the circumstances and shoulder his historic responsibility,» Koumoutsakos said, adding that while Greece did not wish to interfere in the Patriarchate's internal affairs, «this should not be misconstrued as support for people or forms of behavior that do not uphold the Patriarchate's prestige.»
Athens sent a team of experts to Jerusalem between March 21-25, to investigate the scandal.
Koumoutsakos accused Irenaios of non-cooperation. «Specific documents were not made available,» he said. The report said Irenaios «focused on financial demands faced by the Patriarchate... giving the impression that he did not desire an extensive discussion of long-term leases of Patriarchate land in the Old City of Jerusalem.»… (more information on the next link: http://www.ekathimerini.com/4dcgi/_w_articles_politics_100016_31/03/2005_54638)
…It should be remembered that the Patriarchate controls vast property in Jerusalem, including large areas inside the Old City. It also holds a prominent position in homage paid to the major Christian pilgrimage site. Caught between the conflicting objectives of the official Israeli state and the relatively small Arab flock, the Patriarchate has always had to be quite flexible in order to survive… (more information on the next link: http://www.ekathimerini.com/4dcgi/_w_articles_columns_100004_31/03/2005_54632)