The Bigorski monastery: to the glory of Christ's Resurrection ( 03.05.2005 )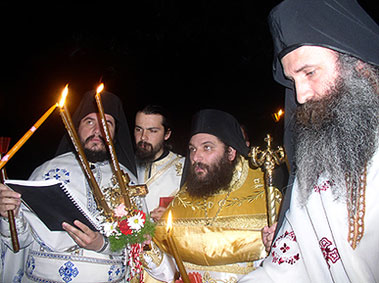 "O Pascha great and sacred, Christ! O Wisdom and Word of God, and power! You Who granted us to partake of You, in the Day without Evening of Your Kingdom!"
"Shine and glow, New Jerusalem, the glory of the Lord on you did dawn. Exult now and rejoice, Zion. You, Most Pure, rejoice O Mother of God, at the resurrection of your Child."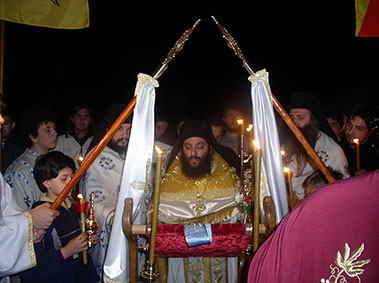 With the all-night worship services in the monastery of Saint John the Baptist—Bigorski started the great celebration of the Resurrection of Christ for a significant part of the flock of the risen Lord in Macedonia. At the festive Midnight service, countless faithful from all the parts of the Republic drew near to take light from the Paschal candle of the hegoumen of the monastic brotherhood and to share the joy of the Resurrection with their brothers in Christ who arrived in the most wondrous night to be united for the numberless time in an ineffable relation of members of the risen Body of Christ.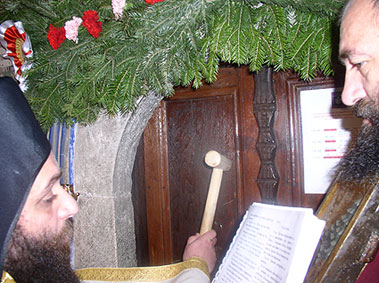 "Celebrating Your majestic condescension, I praise You, Christ, Who was born by the Virgin and remained inseparably with the Father. As a man You suffered and was willingly crucified, rose from the grave as from a palace, going out to save the world, Lord, glory to You."
Headed by the archimandrite Parthenius, the hieromonks of the Bigorski monastery officiated, accompanied by two choirs: on the right with the chanting of the brotherhood monks and guests-psaltists, on the left with the responses by the sisters of the monastery of Saint George, who came for the night of Christ's Resurrection from Rajčica at the Vigil, with the understandable hope to enter the joy of their Lord close to their Elder.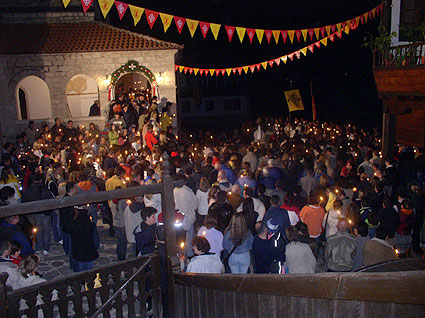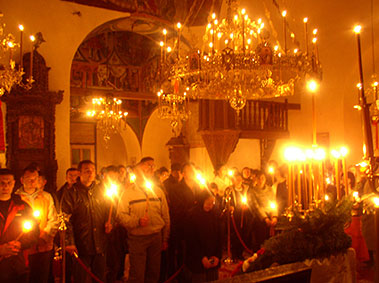 "You Who 'captured' Adam and raised man with Your Resurrection, Christ, render us worthy with a pure heart to praise and sing Your glory."
At this year's Resurrection Vigil, the greatest part of the guests in Bigorski were the zealous God-seekers and pilgrims, and a very small number of them were the curious travellers and lovers of rare experiences.