Аs per the Patriarchate's Charter and a Jordanian Law dating back to 1958, the procedures for the election of a new Patriarch of Jerusalem have to commence ( 11.05.2005 )


Rapid developments in the thriller with the Patriarchate of Jerusalem. Mr Eirinaios has formally been renounced, since the Jordanian Cabinet agreed with the Synod's decision. All that is left is for King Abdullah of Jordan to ratify this in the next couple of days. Earlier, the Palestinian Authority also voted in favour of the Holy Synod majority decision. Following these developments, and as per the Patriarchate's Charter and a Jordanian Law dating back to 1958, the procedures for the election of a new Patriarch have to commence. On Tuesday afternoon, Eirinaios admitted that the Patriarchate had entered into long-term leases with the Israelis, but claimed that he was a victim of deception.
Common Stance by Jordan and the Palestinians
The Jordanian Cabinet's decision, which has already been sent to the palace, will be ratified by King Abdullah on Sunday. The Palestinians' decision will also be ratified on the same day.

The Palestinian Authority's Cabinet, which met earlier and was chaired by Ahmed Qorei, also decided to renounce Eirinaios from his capacity as Patriarch. All that is left now, is for the Palestinians' decision to be ratified by President Mahmoud Abbas.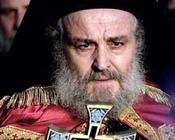 Earlier, however, a marathon of deliberations commenced, following the findings of the Palestinian Authority's three-member experts committee, which acquitted Patriarch Eirinaios of the long-term leasing of Patriarchal properties.

As per NET correspondent Panos Charitos, Mr Eirinaios does not seem willing to resign.
Fervent Activities in Athens
Things have been fervent in Athens, in view of the crisis with the Patriarchate of Jerusalem.
Government spokesperson Thodoros Roussopoulos urged Patriarch Eirinaios to rise to the occasion.

At the same time, Deputy Foreign Minister P. Skandalakis held successive meetings with Palestinian Authority Charge d'Affaires Ismat Shabri and the Jordanian Ambassador in Athens.

As per Palestinian diplomatic sources, Athens and the Palestinian Authority have agreed on the how to deal with the crisis, and believe that the situation will be defused in a matter of days.
The Greek Orthodox Church has not made any official statements, though. As per NET, Archbishop Christodoulos contacted Jerusalem and Metropolitan Bishop Vasilieios of Kaisaria briefed him on the latest developments.

As per his associates, Mr Christodoulos will be adopting the stances of the Greek Government and Ecumenical Patriarch Bartholomew.
the information is taken from the Greek medium ERT: http://news.ert.gr/newsDetails.asp?ID=134158